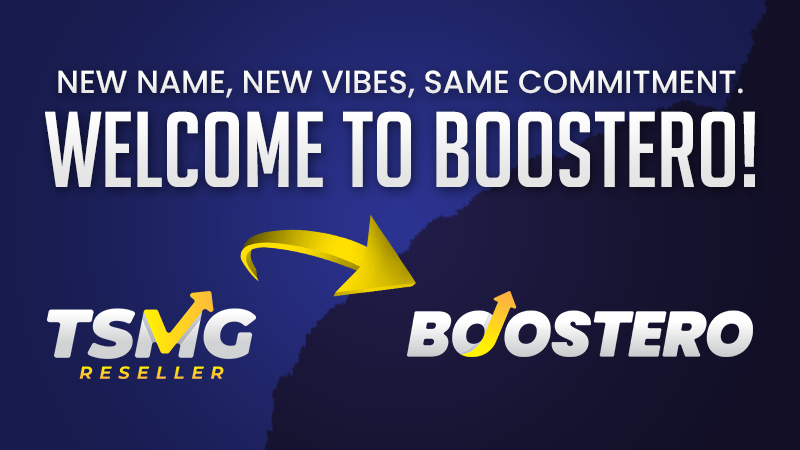 Transitioning from TSMG Reseller to Boostero!
We've got some exciting news that we've been itching to share – TSMG Reseller is embarking on a new journey with a fresh look, a cool vibe, and a brand new name – welcome to the world of Boostero!
More than a Name Change
Changing a brand name is a pretty huge deal. It's more than just swapping labels; it's about reflecting our growth, the energy we bring, and the promises we make to you, our valued clients. This change wasn't something we just stumbled upon; it's the result of lots of dreaming, planning, and believing in a future that's brimming with possibilities!
Why the New Vibes?
You might be wondering, why the change? Well, sometimes, to keep up with the ever-evolving market and the dynamic needs of our community, a fresh start is just what's needed! For us, rebranding to Boostero isn't just a change; it's the beginning of a thrilling adventure.
Outgrowing the Old
TSMG Reseller was where our story began, where we carved our niche and set out to make a difference. But as the days rolled on, we realized we were about so much more than just reselling. Our services expanded, our community grew, and our impact deepened.
Upgrading Your Experience
But hey, we didn't just stop at a new name! We've rolled out a bunch of new services, jazzed up our designs, and amped up our customer support to bring you an even better, more seamless experience. We're all about ensuring every interaction with us is nothing short of amazing!
What's in the Name?
So, why Boostero? It's got that zing to it, representing our mission to boost your success and elevate your experiences! It's not just a name; it's our renewed commitment to being a catalyst for growth and a companion in your journey.
Here's to New Beginnings!
We're super stoked about stepping into this new chapter as Boostero and can't wait to continue building incredible relationships, fostering growth, and creating unforgettable experiences with all of you.
So, here's a huge shoutout to each one of you for being a part of this journey! Fasten your seatbelts because, with Boostero, we're all set to soar to new heights! 🚀🌟
Thank you for your unwavering support, your belief in us, and for being the heartbeat of this community. Here's to making more memories, achieving more milestones, and embracing the future – together as Boostero!