Promote and Grow Your Business With the Most Reliable SMM Panel
Boost your Social Media Engagement & Create Buzz on Social Media Within Minutes!
Enhance Your Social Media Profiles

The Easy Way

!
Main reasons to choose Boostero
Complete Service Guarantee
Each service we offer comes with a quality guarantee. While choosing our services, you can rest assured that we will get you real likes, followers, subscribers, and other social media activities.
With us, you get 24/7 customer support that can help you turn any bottlenecks into breakthroughs. Our support agents are working every day including Saturdays and Sundays. We offer Email, WhatsApp, or Ticket Support.
Pick from a great selection of payment methods we offer including Credit/Debit Cards, PayPal, Cryptocurrency, Payoneer, Skrill, Payeer, Perfect Money, Cashmall, and many more.
Pricing is something that truly sets us apart from our competitors. Now you get to leverage the most reliable & Cheapest SMM panel at the most affordable price available on the market. Oh, and the best part? We don't ever compromise on the quality.
Your privacy and data mean the world to us. That's why we implement several security checks to keep your information safe and secured. All the links, profiles, and numbers used in the panel are only for you.
You don't have to wait for ages to avail of our services. Once you place an order, our automated system gets going on completing your project right away and implements our requirements without you having to wait for them.
From TSMG Reseller to Boostero!
Elevating Our Brand, Elevating Your Experience
Changing a brand name? It's kind of a big deal. It's not just about picking a new label. It's about who we are and what we promise to you, our amazing clients.
Ever wonder why a brand would switch up its name? Sometimes, it's just about keeping up with the times and the ever-changing world of business. For us, it's about starting a fresh chapter.
So here's the scoop: We started as TSMG Reseller. But guess what? We've evolved way beyond just "reselling."
Starting as TSMG Reseller, we had our cozy little niche. But as time went by, we spread our wings. We've jazzed up our designs, stepped up our social media game, and made our overall vibe way cooler. All along, our main gig? Helping businesses like yours create awesome connections with clients.
We've done more than just switch up our name: we've introduced a lot of new services, revamped our design, enhanced our customer support, and elevated the entire Boostero experience for you!
So, with all these exciting changes, we felt the old name was a bit...well, old. And thus, Boostero was born! It's got that "boost" vibe, right? It's all about pushing forward and aiming sky-high.
Boostero isn't just a snazzy new name; it's our pact with you. More vibes, more growth, more connections. Let's roll with it and see where this journey takes us.
To our renewed voyage as Boostero!
We Bridge Gaps, Connect Brands With

Followers

, and Get them Engagement Through

Likes and Comments

Every Day!
Boostero is all about connecting you to your ideal audience. We make the entire process as smooth and as hassle-free as possible. Want to grow your organic reach within no time? Let us help you spread your message to more people without a worry in the world
The One Thing Big Brands Don't Tell You About Meeting Marketing Goals!
Think about it…
Do you ever happen to see a big-name brand without followers, likes, and comments?
Or even better, have you ever seen a brand or a business quickly rise to fame right underneath your nose?
If you can relate this to a situation or two, then we want to let you in on a secret.
"Most big name brands and successful companies leverage marketing to get more traction on their social media."
And the best part? You no longer have to be left behind. Join the new wave of marketing today by leveraging our services.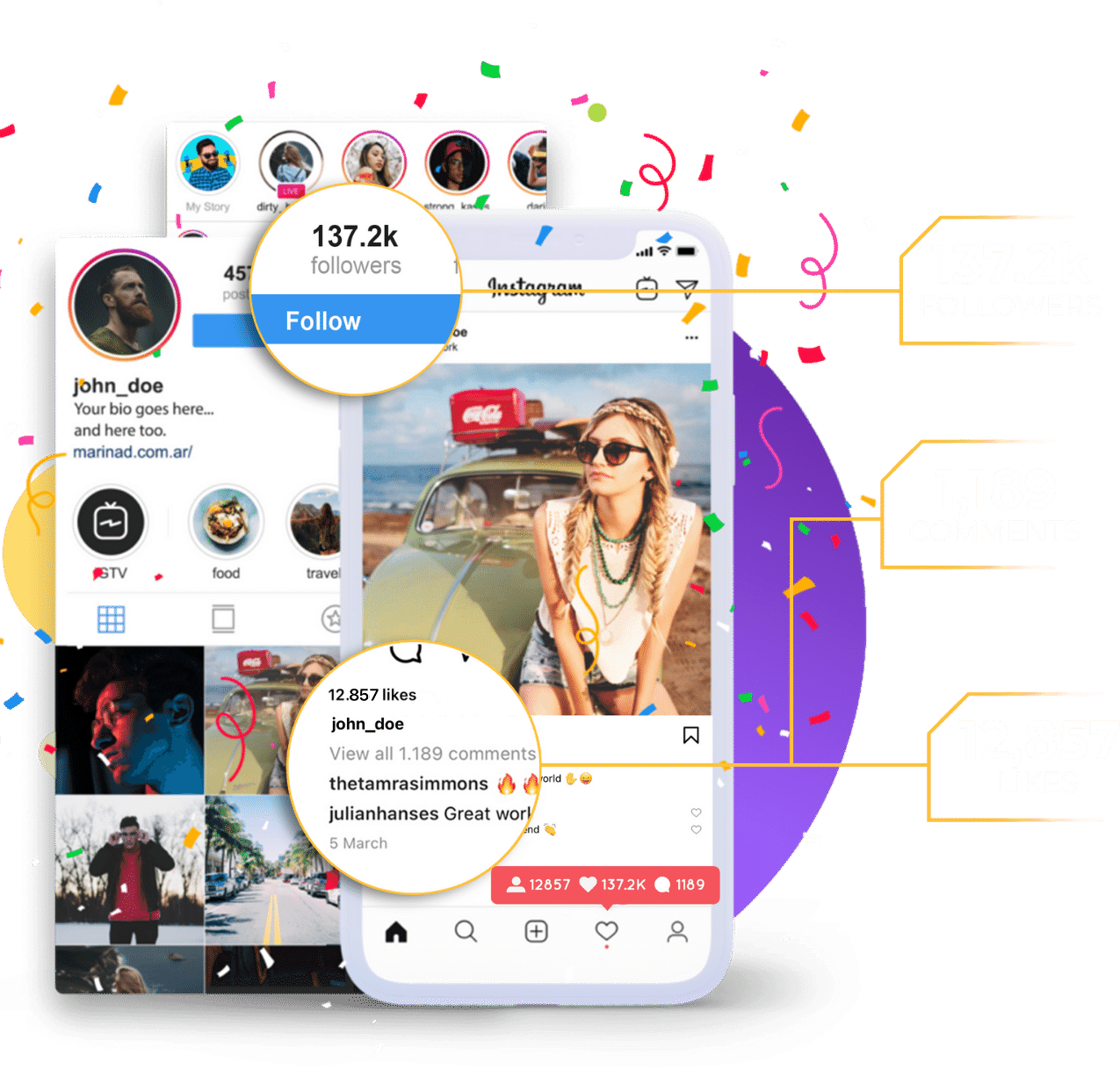 Focus on Doing What You Love the Most While

We Handle

Your Social Media Growth!
Getting more followers, likes, and views with us is unbelievably simple. There are tons of reasons why you would want to grow your social popularity, along with ensuring your account safety. We guarantee you a higher number of viewers and organic reach on your profile with our services. Boostero is dedicated to providing user satisfaction.
Churning out content on YouTube won't cut it. You will need a boost in subscribers and engagement to be able to get recognized by other people. This is where our YouTube viewers and subscriber services step in.
Are you tired of creating quality content and not getting any followers on TikTok? Our Reliable SMM panel will help your videos to be discovered more by getting you the much-needed views and likes. After that, the sky is the limit!
Want to have your stay on Twitter? Why settle for a suboptimal Twitter page when you can make it look hugely professional? Use our Best SMM panel to get more retweets, followers, and likes on whatever you feel like.
Want your music to rise above the clutter and make an impact on the bigger stage? Our cheapest SMM panel allows you to buy multiple streams and plays so that your music gets recognized by your ideal audience.
Elevate your standing on LinkedIn and stand out from the crowd. With our specialized SMM services, turn your profile into a networking powerhouse by amplifying followers, endorsements, and engagement.
Boost your Telegram channel's influence and reach. With our expert Telegram services, transform your community interactions by increasing subscribers, enhancing engagement, and ensuring messages resonate.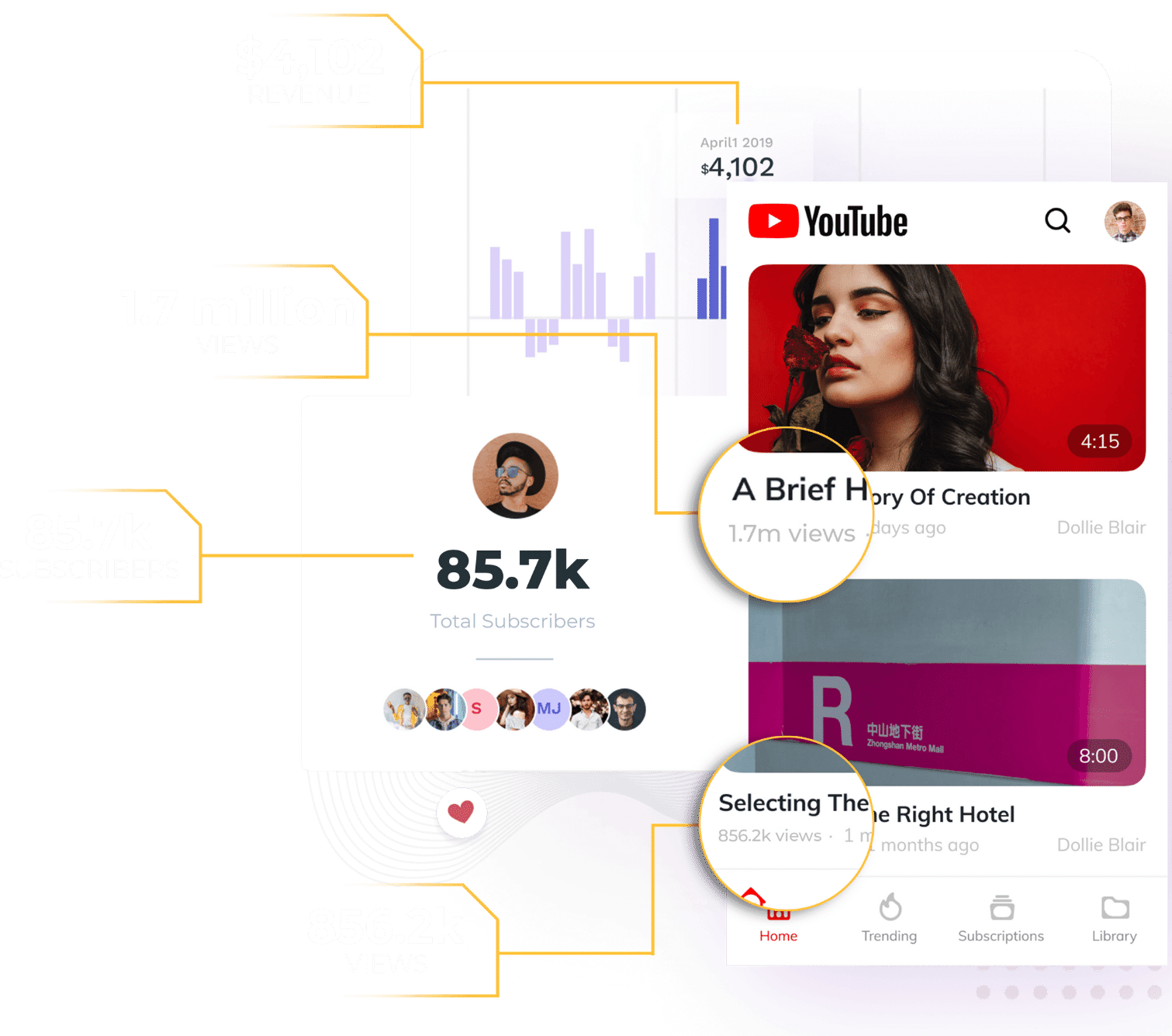 Why Our SMM Panel Rocks?
Boostero has been the leading social media growth service provider for years since its beginning. Our SMM Panel delivers the fastest and most comprehensive social media services to help our customers grow across all social media platforms. Our experts work tirelessly to be highly informed in all areas concerning social media, as our SMM Panel speaks for itself setting the benchmark for excellence in the industry.
We strive to provide the highest standards of social media services through an uncompromising commitment to the online growth of our customers.
Twitter, YouTube, Tik-Tok, Reddit, Sound Cloud, Spotify, Pinterest, and every other social media platform is available on our affordable SMM Panel.
We guarantee the highest quality and our customer support is built on total, no-compromise customer satisfaction and we continually strive to offer complete packages of up-to-date value-added social media services to the meet our customers' needs.
With Boostero Panel, Your Social Media Growth is Absolute!
Check out the step-by-step tutorial on how to get started on our SMM panel. Join the exclusive community who are
currently enjoying the advantages of the Boostero Panel.
Begin with signing up on our panel and logging in.
Add Funds to your Balance
Pick the most suitable payment option & add funds to your account.
Place an order for the services you need and become more popular online.
You will be impressed with the results once your order is completed!
See What Our Customers Have to Say About Our Services
We don't just make big and bold promises - we fulfill them too! Our team works hard to make sure you get the perfect experience and the right value out of the services you avail from us. Want to know how our SMM panel has helped our customers get success? Scroll through customer feedback below.
I've been using Boostero for a few months now and it's so easy, so cheap, and super quick. The service delivery is fast and quality is more than you would've expected at the first. Brilliant site and amazing services. Makes life so easy when I try to create an order. I have used other SMM panels but this one has to be 110% the best one and now I will only use their services for for foreseeable future.
Amazing Smm Panel with even better services. Boostero is a very good company, they always provide their services in a timely manner and customer support is very quick in responding. Highly recommend using this SMM Panel for all of your social media promotions.
Starting a new business, I knew the importance of social media, but it's a jungle out there! Boostero has been my guide. The results were noticeable within weeks, and the prices are affordable considering the quality they deliver. Their analytics feature is a gem, helping me track and refine my strategies. Two thumbs up!
Boostero has been an essential tool for my brand's online presence. While the results have been consistent, what I particularly appreciate is their transparency in operations. Their customer support has been proactive in addressing any minor issues I faced. Would be great if they introduced more package options for smaller businesses!
I've tried multiple SMM panels in the past, but Boostero stands out in terms of both efficiency and customer service. The user interface is clean, making it easy to navigate and order. My social media metrics have seen a significant boost since using their services. Highly recommend!
As an influencer, my online presence is my bread and butter. Boostero has proved to be a reliable partner in growing and maintaining my follower base. The panel is intuitive, and the delivery speed of services is commendable. Docked half a star only because I believe there's always room for improvement, but otherwise, Boostero has been a game-changer for me!
This is the best SMM Panel available out there and the main reason is that the quality and prices beat any other SMM panel I tried before! It was really annoying to discover this website after years of overspending elsewhere, but it's better late than never. Thank you for everything!
Boostero has the fastest and most efficient services in this world, I have personally checked, their service is real, special, and cheap compared to its competition! I recommend their service 100%, the most important thing for me, THE CUSTOMER SERVICE! THEIR SUPPORT IS FAST and AMAZING, they solve your problem, and/or you get your money refunded, 100% guaranteed.
Frequently Asked Questions
Get answers to some of the most frequently asked questions on our SMM panel.
Crafted for Every Screen: Experience Boostero's Distinctive Design!
At Boostero, we pride ourselves on our meticulous attention to design, ensuring every user experience is seamless and intuitive. Recognizing the diversity of devices in today's digital age, we've dedicated countless hours to guarantee our platform's compatibility.
Whether you're on a mobile phone, tablet, desktop, or any other device, our site adjusts beautifully, ensuring all features are accessible and efficient. Enhanced by contemporary icons and visuals, the adaptability of Boostero not only stands out but ensures you can manage your tasks instantly, from anywhere.
Experience the epitome of responsive design with Boostero- where technology meets aesthetics.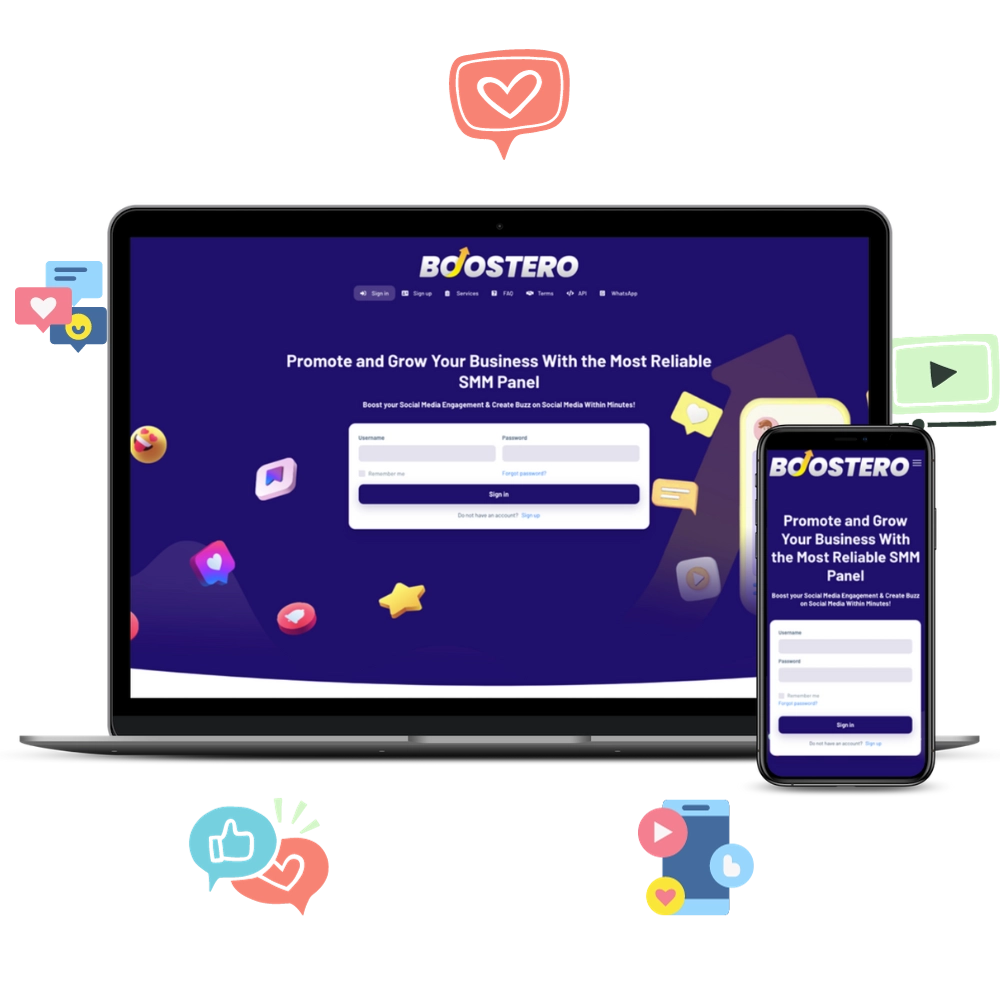 Your Social Passport:

Engage Globally, Connect Locally
Dive into our region-specific social media solutions, designed to resonate with the heart and soul of each unique culture. Whether you're targeting United States or India, we ensure an authentic and impactful digital presence for your brand.
Tap into the USA's vast online world with our specialized social media services. Boost your presence with real followers and likes that capture the spirit of America. From the busy streets of New York to sunny California, we've got your brand covered from coast to coast.
Feel the rhythm of Brazil with our tailored social media solutions. Whether you're connecting with the lively crowd from Rio's carnival or the city buzz of São Paulo, we ensure your brand shines bright in the Brazilian scene.
Discover Spain's digital charm with us. From the passion of flamenco dancers to the calm beaches of Costa Brava, attract followers and likes that get the Spanish vibe just right. Dive into Spain's online community and let your brand stand out.
Get lost in the online beauty of France with our dedicated services. Draw followers from Paris's chic neighborhoods or Bordeaux's wine lovers. With every interaction, share a bit of that French elegance.
Add a touch of Italy's flair to your online presence. From trendy Milan to historic Rome, attract followers and likes with genuine Italian style. We help your brand connect in a way that's uniquely Italian.
Boost your online game with our German-inspired social media strategies. From the cool scenes of Berlin to Bavaria's timeless charm, make sure every click, like, and share speaks of quality and innovation.
Dive into the colorful online world of India. From the buzzing streets of Mumbai to Kerala's peaceful vibes, gather followers and likes that truly connect with India's rich tapestry of traditions and modernity.
Navigate the diverse digital landscape of the Arab world. Connect with followers from Marrakech's historic heart to Dubai's modern skyline. With us, your brand can resonate with both age-old traditions and today's trends in the Arab scene.
Join Our Exclusive WhatsApp Group!
We are excited to introduce our premium WhatsApp group exclusively for Boostero customers!
This group is your gateway to maximizing your social media marketing efforts and reaching your goals more effectively.
Be the first to know about everything that's happening on the Boostero website! In the group, we'll share:
Announcements of our best-performing services!
Updates every time we introduce a new category or service!
Notifications of exclusive deposit bonuses and discounts!
Being part of our group ensures you stay in the loop about important updates and exclusive offers, helping you make the most of what Boostero has to offer!
Ready to be a part of our vibrant community? Simply click on the link below or scan QR codes to join our WhatsApp group!
At Booster, we redefine the standards of social media marketing, ensuring unparalleled service and tangible results.
Our dedicated approach, powered by cutting-edge technology, stands unmatched in boosting your brand's digital footprint.
Choose Booster, where excellence meets efficiency and experience